Multiple Locations
Here To Care For You!
We continue to incorporate social distancing, mask and temperature screening procedures to protect our patients and staff.
Primary Medical Care
Primary medical care is currently available at our Orange Blossom Trail and Ivey Lane locations in Orlando; at our Kissimmee location on Highway 192; and at our Orange Blossom Pediatrics location on the campus of OCPS-ACE (at the corner of Amelia Street and Parramore Avenue).
Dental Services
Dental services are available at our Orange Blossom Trail, Ivey Lane and Orange Blossom Pediatrics locations.
Telehealth Option
To extend our care, appointments for medical and behavioral health services are available through the telehealth option.
30
Years of Medical Excellence
Welcome to
Orange Blossom Family Health
Our mission is to ensure that you and your family receive the highest quality health care services to achieve optimal wellness. We are committed to providing you an exceptional health care experience that surpasses your expectation every time. Our healthcare is personalized for each unique patient, delivered by highly skilled health care professionals, in a warm and friendly environment. We are conveniently located throughout Orange, Osceola, and Seminole Counties. Please continue to visit our website or come by any of our health center locations. Orange Blossom Family Health, where we are here to care for you!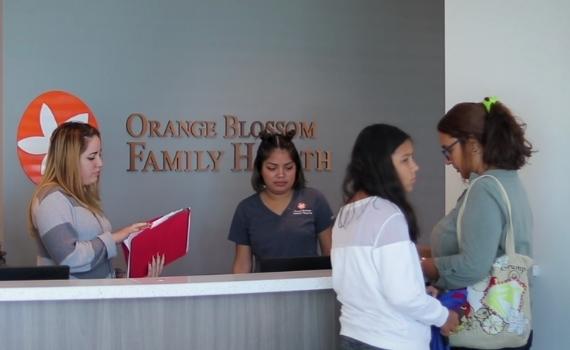 High-Impact HIV Prevention Program
Being Aware Matters

Orange Blossom Family Health is proud to have been chosen to partner with the Centers for Disease Control (CDC) to bring a High-Impact HIV Prevention Program to our community. This program provides testing and referrals for PrEP and HIV care as part of the Ending the HIV Epidemic initiative from the Department of Health and Human Services. Diagnose, Treat, Prevent and Respond are the four pillars that will help us all to collectively reach this goal. The Orlando Metropolitan Area is second in the state of Florida and third in the entire country for new HIV infections. The CDC is investing in communities most affected by HIV as we all work together to end the HIV epidemic in the United States by 2030.
To learn more about BAM contact Micko Corbin at (321) 243-2098
Sliding Fee Discounts Available
No patient will be turned away due to an inability to pay.
Discount Fee Policy Notice
As a Federally Qualified Health Center, it is our policy to provide essential medical services regardless of the patient's ability to pay. NO ONE IS REFUSED SERVICE BECAUSE OF A LACK OF FINANCIAL MEANS TO PAY. Discounts are offered based on family/household size and annual income. A sliding fee schedule is used to calculate the discount and is updated each year using the Federal Poverty Guidelines. Please ask our front desk for more details or contact us at (407) 428-5751.
Aviso de Política de Tarifa de Descuento
Como centro de salud calificado a nivel federal, es nuestra política para proporcionar servicios medicos esenciales independientemente de la capacidad de pago del paciente. A NADIE SE LE NEGA EL SERVICIO POR FALTA DE MEDIOS FINANCIEROS PARA PAGAR. Se ofrecen descuentos segun el tamañ o de la familia/hogar y los ingresos anuales. Se utiliza un programa de tarifas moviles para calcular el descuento y se actualiza cada año utilizando las pautas federales de pobreza. Por favor pregunte a nuestra recepcion para mas detalles o contactenos (407) 428-5751.
Rabè Frè Metòd
Kòn yon sant swen sante federal ki kalifye, se regleman nou pou nou bay sè vis medical esansyèl kelkeswa kapasite paysan poul peye. PA GEN OKENN MOUN NAP REFIZE BAY SÈVIS PAKE LI PA GEN MOYEN POUL PEYE. Rabe nou ofri yo baze sou grosè famni an/ak kantite moun ki nan kay la. Ak Vale lajan yo fè chak ane. Nou utilize yon to frè tou piti pou kalkile rabè a, epi nou mete l a jou chak ane avek direktiv povrete federal yo. Mande biwo davan pou pli detay oswa kontakte nou nan 407-428-5751.
We believe in providing the best possible care to all our existing patients and welcome new patients.
What Patients Say
Patient
Testimonials
I can honestly say that I love this place, from the nurses all the way to my doctor. I received the best service.
Their medical and dental services are awesome! The staff is friendly and treats me like family. I will definitely continue to refer family and friends to Orange Blossom Family Health!
After searching for 5 years, I finally found my healthcare home! The staff is very caring and instills in their patients the importance of maintaining a healthy lifestyle.